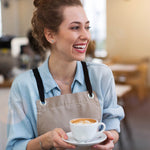 Flavour is the key to success.
You want something unique with bold flavours, that will keep your customers loyal and coming back for more, don't you?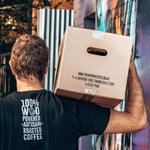 Partner with The Wood Roaster.
Finding the right coffee supplier is one of the most challenging business decisions a café, restaurant or business owner will face.

You want to be a market leader. How can you stand out from the rest?

That's where we come in.

Our unique taste and full bodied flavours will keep them coming back for more, time and time again.

One cup is never enough of The Wood Roaster coffee.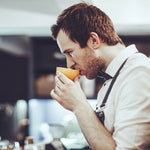 Our promise.
We offer a partnership that goes way beyond just supplying the best tasting specialty coffee. 
We'll share all our expertise to ensure your business has every chance of success.
Besides serving the best tasting coffee, here's what you can expect when you're part of The Wood Roaster Family.
Our secret weapon is our wood roasting technique. It's an art, infused with science.
The result?
Coffee that is unparalleled in flavour with mouth watering blends that they'll keep coming back for.
You know, like the good old days.
Think regular on-site visits, friendly check ins and follow ups, plus weekly deliveries.
You can all on us anytime. We're here for you, just like you're part of the family.
We'll give you the honest truth – about coffee, wood roasting, your business and more.
We'll empower you to be a high performing business in no time.
Straight talking industry experts with honest advice we'd give our best mate.
Education & training. Like ongoing - forever and whenever you need it.
We become part of your team to ensure you're equipped with the confidence and skills to serve the best tasting coffee and maximise your earning potential.
Our rare, consultative, collaborative and strategic approach will assist you to achieve your business and marketing objectives.
On top of knowing how to create the best tasting coffee, we'll help you implement optimal and efficient business solutions to ensure your success.
Leaders in wood roasted coffee.
We've mastered the art of wood roasting coffee and have created the perfect 'blend' of art and science to become the leaders in roasting coffee with wood.
Our custom, hand built, 'one of a kind' wood roaster is the only one of its kind manufactured in the world. It uses the latest modern computer technology to produce a roast that is more consistent, cleaner, sweeter and more full bodied that what's possible through any other roasting styles.
Plus, being lower in acidity, we're able to truly emphasise the body and taste that coffee lovers want in their cup.
Our beans are the best!
As a specialty, artisan roaster, we only roast to order. This provides consistent quality and flavour to die for. Then the same as what's there.
We provide all the tools of the trade.
With scheduled servicing, after hours emergency support, plus after hours pick up from factory, you'll never have to worry.
You'll also save time with orders using our innovative, online system where you can streamline orders, invoicing, deliveries and payment processing.
We procure, roast, pack, sell and deliver our bespoke coffee to cafes, restaurants and homes both locally and internationally.
WHAT MAKES US UNIQUE?
It's the way we roast.  And the taste we can create
Our success
comes from
your success.
Clients love our unique tasting coffee. 
That's why we have a retention rate of over 95%.
What others say
Kim and his team are true professionals and no request is an issue for them. They provided us with up-front and on-going barista training and tailored the equipment to suit our cafe's configuration. Their service and support have been a pivotal part of our success and I couldn't recommend them enough.
~ Daniel Milgram, Blackfish Café & Grill
The team at The Wood Roaster have been absolutely fantastic! Throughout the whole process of getting set up they have truly been amazing. The tasting sessions, picking the suitable coffee machine, training, helping us with ordering, nothing is ever too much for them. They have helped us choose the most amazing tea and coffee that we are so proud of. Our customers are loving it and we hear nothing but compliments! So thank you so much to each and everyone of you at the Wood Roaster for playing such a pivotal part in our business' success.
~ Sarah Lay, Sakura Coffee & Cakes
We are based on the Northern Wollongong fringe, 60 minutes south of Sydney, Darkes Forest Ranch provides Horses for Special Needs, all-inclusive sessions for the disabled. Thanks to the help of valued sponsors such as The Wood Roaster, whom not only donate product but also donate there time to help on our teaching days, we are able to utilize our special equine friends and provide truly amazing experiences for participants and their families.
~ Darkes Forest Ranch
I was lucky enough to find The Wood Roaster six years ago and have been serving their wonderful coffee since. The high level of professionalism, care, attention to detail and support I get from Kim, Mel and the team at The Wood Roaster is something I know that I can always rely on. I would highly recommend The Wood Roaster to anyone wishing to take their coffee business to the next level.
~ Phil Haysom, Somerset Eatery
I have tried many coffee beans in the 35 years I've been a Barista. The Wood Roaster is the best.
~ Rob Shilton, Rob's coffee
We have been with The Wood Roaster since the beginning when we opened our café in January 2021. Their product is unique and unlike any other coffee roaster. The flavour is amazing and the wood roasting technique ensures a consistent product every time. Most importantly our customers LOVE the coffee and continue to come back time and time again. Kim and his team (especially John) are true professionals and the support they give reassures us that we have partnered up with the right people.
Cafe Lost and Found
TASTE THE DIFFERENCE.
Unique. Bold. Fearless.

We know our coffee tastes better.

Try it for yourself.