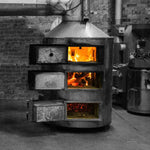 The art of wood roasting.
We're one of only a few in the world to roast coffee this way.
We have created the perfect blend of art and science to become the leaders in roasting coffee with wood.

Wood roasting has been a traditional way of cooking for hundreds of years.

People have always been drawn to a woodfire. For centuries it has kept us warm, cooked our food and served as a place to gather, share stories and connect.

The Wood Roaster has harnessed the power of wood to roast coffee in a way that unlocks the exquisite flavours in the beans.

Roasting with wood is quite a unique process. This technique takes artisan coffee to a whole new level. And one that when you taste the difference, you wont look back - just like 95% of our clients that stay with The Wood Roaster - because they know taste matters.
Discover the wood roaster secret.
So, you may be asking, what's the difference between a wood roaster and a moist heat roasting technique (such as gas or direct heat) used by most of our competitors?

Gas roasting is the most common way to roast coffee. This uses gas to heat the drum containing the beans. The issues commonly faced with roasting this way can leave burns on the beans, produce an uneven roast and inconsistences in flavours and blends.

Further, even with the few wood roasting companies that exist in the world, they've also been known to be met with challenges with wood roasting such as controlling temperature, and if using a direct heat source – burning and tipping the beans because of no air flow.

However, at The Wood Roaster, we've mastered this by using an air roasting approach through our custom built, fully temperature controlled roaster, fuelled by wood. Enhanced with data logging technology that actively regulates the method of roasting, This one of a kind, state of the art roaster is able to utilise the dry heat to draw out the inherent flavours of the high quality beans we source.

This means, we can deliver a roast that's more consistent, cleaner, sweeter and full bodied.

Further, as you may be surprised to learn, this technique eliminates any smoke from influencing the flavour (we don't want that!) or the roasting process, leaving only the natural flavours extracted from the beans.

Our soft roasting process, fuelled by the heat of high quality Australian IronBark hardwood, draws our the rich flavours. The result? Sweet notes of sugar, honey, cocoa, toffee and caramel combining for a coffee is unparalleled in flavour. Plus it's lower in acidity and truly emphasises the body and taste that coffee loves want in their cup.
Art is not for the cultivated taste. It is to cultivate taste.
~ Nikki Giovanni
Why wood?
When using an air roasting approach, green (raw) coffee beans are roasted by roughly 60% convection heat, 30% conduction and 10% radiation heat. This soft convection heat penetrates easily within the raw beans to roast coffee evenly inside out.
"The soft dry heat of the wood helps to explore and exploit the hidden delicate exotic flowers, fruit fragrance and flavour within the raw beans. A fusion of traditional method, modern hardware and technology to roast coffee" ~ Satin Shrestha. Head Roaster/Quality Control.

With this softer and sensitive pyrolysis process, the very delicate and rare florals within the beans are enhanced, the tropical fruits, berries, lime and other fruits are more heavily pronounced. The sweet note of sugar, honey, maple syrup, cocoa, toffee, caramel and so on are much deeper and stronger. Further, the nutty, earthy and spicy notes are richer and stronger.

On the other hand, Gas and other heat source roasters most commonly used by majority of coffee roasters across the world, roast coffee by roughly 30% convection heat, 60% conduction heat and 10% radiation heat. With this method, the beans are roasted outside to inside by physical contact with the hot drum. The disadvantage of this method are:

* higher risk of raw coffee exposes to extreme heat which lead to scorching of raw coffee which will leave the coffee over or under roasted effecting the fragrance, aroma, flavour, acidity, body and aftertaste of the end product
* very hard to control the heat source
* very low and inefficient air flow within the drum to control the temperature
* labour intense and temperamental
* very inconsistent roast, every batch will be different, resulting in different roast profiles

Roasting using the technique specially created by The Wood Roaster taking advantage of modern technologically advanced and science based approach to roast coffee provides a dry, softer heat from wood air roaster, resulting in a much superior and consistent end product and exquisite taste profiles, in comparison to gas roasters.
Taste the difference for yourself.
HOW IS OUR COFFEE DIFFERENT?
Wood Roasted coffee by The Wood Roaster
Beans roasted more evenly from the inside of the bean through soft convention heat (using the air roaster)

Soft roast process to unlock and enhance the inherent flavour of the bean

The latest computer controlled technology for air roasting

Thorough and even consistency for a richer, superior flavour – every time
Gas, direct heat source and other roasters
Beans roasted from the outside by physical contact with a hot drum

Higher risk of beans being over roasted or under roasted

Difficult to control the heat source

Inconsistency, with every bath slightly varying